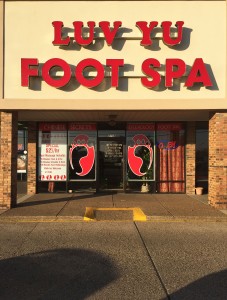 Luv Yu Foot Spa is a relaxing spa getaway that utilizes a traditional reflexology methodology get rid of stress and replenish the body and mind. We have an excellent team of talented masseurs and masseuses with a strong background in traditional Chinese medicine and a passionate attitude to serve. Our mission is to give you, our guests, an amazing spa experience which will replenish your body to feel refreshed and relaxed after a long hard day.
For more information about our business hours or location, please click here.
If you have any questions regarding our business or services, please feel free to call us at 812-550-1798 or fill out our contact form here.